Tutorial – Animando un SVG a través de CSS
Archivado en: CSS3 Diseño Gráfico HTML5 SVG tutorial
Vamos a animar un SVG con CSS para ello vamos a utilizar dos recursos open source.
El primero se llama Flat Surface Shader, creado por Matthew Wagerfield y Tobias Schneider, lo vamos a utilizar para generar el SVG que mas tarde animaremos con CSS.
Sus creadores nos explican su funcionamiento:
FFS is a small side project to explore the possibilities to make art with code.

Admit it, 3D is cool. But, you know what's cooler? 2D. I love WebGL, but unfortunately it doesn't work everywhere.

This lighting simulation can be configured to use either the 2D context of a canvas element or an array of SVG polygons to draw the triangles. It also utilises native Float32Arrays to store numerical data for highly optimised calculations.

This is a collaborative effort between Matthew Wagerfield and Tobias van Schneider – a couple of pandas trying to make the web a more magical place.
El menú de Flat Surface Shader es bastante sencillo de utilizar, jugando con el podemos ir viendo al instante los cambios que vamos haciendo. En el GitHub de Flat Surface Shader nos explican las funciones de cada opción.
Los valores que he utilizado para este ejemplo.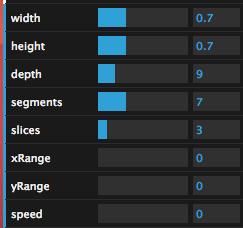 He reducido el número de slices y segments ya que si no el SVG adquiere un tamaño bastante considerable.
Antes de exportar nos aseguramos de que en la pestaña de *render *hemos seleccionado SVG. Cuando le damos a exportar nos abre una pestaña con la imagen, simplemente le damos botón derecho, le damos a guardar y ya tenemos nuestro SVG.
El siguiente paso lo podemos hacer en Sublime o en Illustrator, yo prefiero hacerlo en Illustrator. Lo que vamos a hacer es abrir el SVG **y renombrar cada elemento, en este caso tenemos 48 polígonos o capas, así que las vamos a renombrar en orden numérico. Una vez completado este paso nos disponemos a abrir el **SVG en Sublime y veremos este código:
Ahora vamos a animar el SVG, y para ello vamos a utilizar animate.css creado por Dan Eden
animate.css is a bunch of cool, fun, and cross-browser animations for you to use in your projects. Great for emphasis, home pages, sliders, and general just-add-water-awesomeness.
Podemos bajarnos el archivo completo desde GitHub o podemos generar nuestro propio archivo, para ello vamos a create custom build y seleccionamos las animaciones que nos gusten, para ver en que consiste cada animación bastara con ponernos encima de ella y esperar a que se ejecute el efecto. En esta ocasión solamente nos vamos a quedar con bounceInRight *y *bounceInLeft, le damos a build it y ya tendremos listo para descargar nuestro archivo CSS.
Ahora que tenemos todo preparado tan solo nos queda animar el CSS. A las capas o polígonos pares le vamos a dar un bounceInRight y a las impares bounceInLeft.
Para no ir añadiendo la clase una a una a los diferentes polígonos que tiene el SVG podemos hacer lo siguiente y ahorrar tiempo, en Sublime nos vamos a Find y luego a Replace(comando + H en Mac – crtl + H en windows).
En Find What escribimos: < polygon (quitad el espacio anterior a polygon) Y en Replace Width: < polygon class="animated bounceInRight" (quitad el espacio anterior a polygon)

Le damos a Replace All y ya tenemos todas nuestros polígonos con la clase animated y bounceInRight, pero ahora esta todo con bounceInRight y como hemos dicho anteriormente solo los pares van a tener el efecto bounceInRight, así que ahora repetimos la anterior operación pero ahora en Find What pondremos: bounceInRight y en Replace Width pondremos bounceInLeft ahora vamos a utilizar Replace en lugar de Replace All, y solamente lo aplicaremos a los polígonos con número impar. Alternando clicks en Replace y Find completaremos fácilmente la operación.
Este es el código resultante:
Si ejecutamos el HTML en el navegador vamos a ver que la animación es demasiado rápida. Así que vamos a corregir el tiempo en el CSS, simplemente vamos a .animated y sustituimos 1s por el tiempo que nosotros queramos, en este caso lo cambiaremos por 4s.
Y ya tenemos lista nuestra animación, aquí podéis ver el resultado final.
Un último apunte final, podemos modificar el tamaño del SVG en cualquier momento y sin riesgo a perder calidad, tan solo tenemos que modificar el width y el height en el HTML.
Enlaces de interés:
Flat Surface Shader
Animate.css
GitHub animated.css
GitHub flat-surface-shade

SCALABLE, un libro sobre SVG

A lo largo de 15 capítulos, 120 páginas y más de 70 ejemplos vamos a ver todo lo que podemos hacer con SVG.

Tu pones el precio, disponible desde 0$ para descargar desde LeanPub(PDF, ePUB y MOBI).